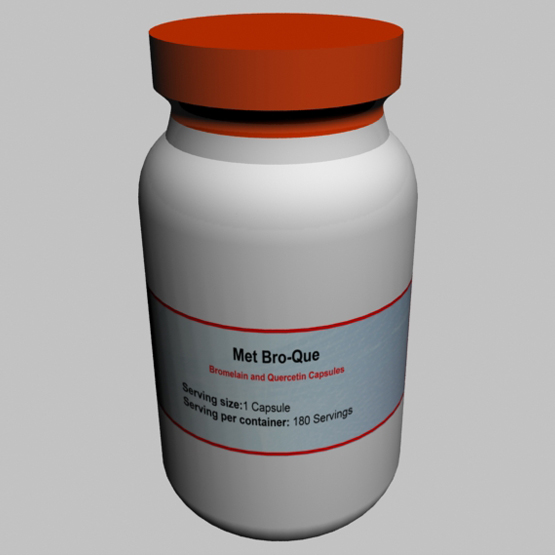 Met Bro-Que capsules
$6 (500 mg | 180 Capsules)
Met Bro-Que capsules consists of the Quercetin and Bromelain.
Quercetin is a potent and versatile flavonoid and phytonutrient while Bromelain is an enzyme complex derived from the pineapple stem.
Met Bro-Que modifies the body's response to antigenic substances, inhibits formation of free radicals and supports circulatory health by promoting integrity of tissues in small blood vessels. It also supports tissue comfort.
Supplement Facts
Serving Size 1 Capsule
Servings per Container 180 Servings
Amount per Serving % Daily Value
Composition
Unique
Unique
Quercetin
250 mg
+
Bromelain
125 mg
+
Enzyme activity: 2400 GDU ( Gelatin Digesting Units ) per gm
+ Daily Value not established
Other Ingredients: Rice Powder, Magnesium Stearate ( Vegetable Source ), Silicon Dioxide, Gelatin Capsule.
Suggested Use: As a dietary Supplement, take 1 or 2 Capsules three times daily, Preferably 30 to 60 minutes before meals.
Not Suitable for Vegetarians
CONTAINS NOTHING OTHER THAN LISTED INGREDIENTS